Social Casino Gaming — Smart Money Tells Why "Free" Gambling is Worth Your Investments
Online gambling activity is not limited to real-money casinos, betting platforms, or live gaming portals. Knowledgeable operators have come up with the ultimate reckoning — social gaming can sometimes be even more profitable in certain regions. The reason for this is an interactive aspect. People do not consider a money-earning desire here at all. Instead, they can focus on satisfying their aspiration for entertainment. But how do operators benefit from this?
Smart Money keeps an eye on the latest trends in social gaming. Our proficient analysts have been adjusting the developing strategies of such gaming platforms since the massive leap in the popularity of social entertainment. No wonder hundreds of pleased operators are now managing their gaming websites of this kind.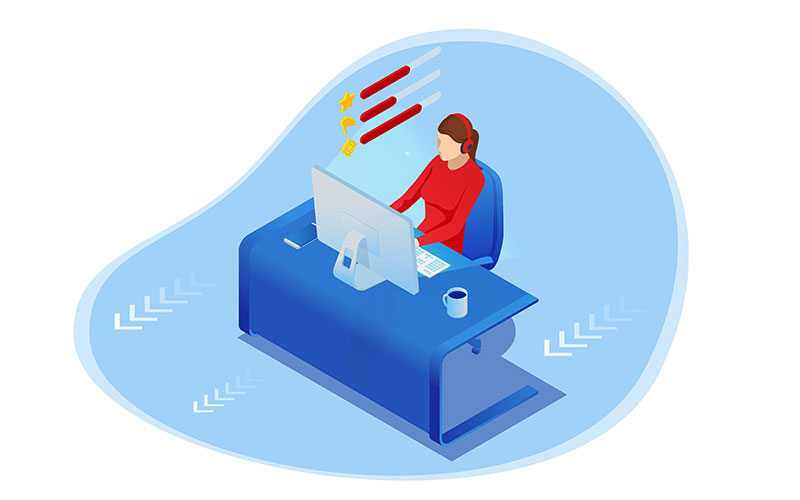 Order a turnkey social casino solution from Smart Money and provide your clients with steadily growing entertainment without obligatory deposits.
This type of entertainment gained its initial popularity in social networks. Later on, it was implemented in a form of mobile apps that are now widely played all over the world. In comparison to regular gambling activity (slots, card games, etc.), social gaming considers interaction with others and enjoyment from the process as its essence.
Players do not have to make obligatory deposits to start playing. All features of these games can be achieved through grinding — spending a lot of time playing. However, to reach better results faster, developers of social games offer in-game payments. Usually, those are resources that are used for a quicker progression.
A few widely played games of this type include:
Farmville;
Zuma Blitz;
Mafia Wars;
World of Warcraft.
No wonder these games are entitled social. Interaction with other players, competing in leaderboards, outscoring friends and rivals are the main goals of these games. While operators do not impose depositing money into the laying process, players can receive certain boosts if they decide to purchase additional resources, various features, clothes, and other items.
Apart from that, social games can also be free versions of casino games that also do not require obligatory deposits. In this case, players receive spins, participation tokens, chips on a daily basis, for winning, or for completing certain tasks. But they can also purchase additional in-game currency to continue playing, making bigger bets, and enjoying the benefits of higher balance.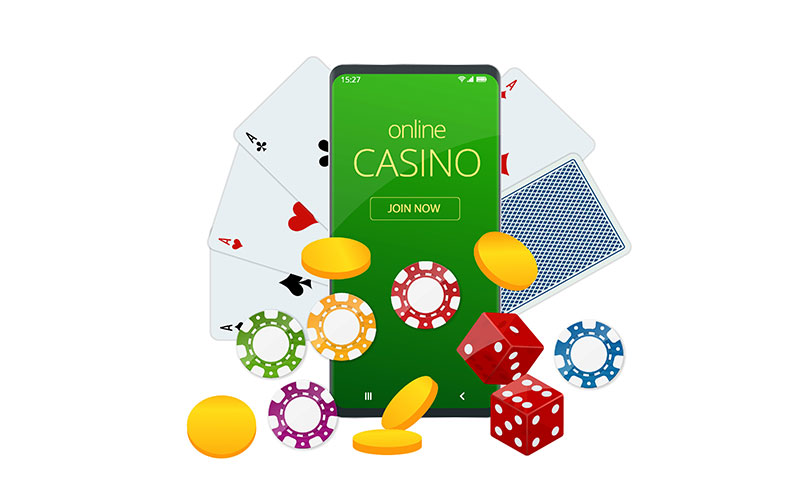 When an operator decides what type of a gambling platform it is good to launch, he should conduct thorough research to find out what the potential gamers are more attracted to.
Social gaming can be a perfect alternative to online gambling activities in countries where internet casinos are banned. For example, the UK authorities came up with the conclusion that social plays bore no danger to the locals and decided there was no need to regulate this type of entertainment.
So, what makes players choose social games and deposit money in them:
Lack of competitiveness. Social gaming is all about interaction with other players. Surely, leaderboards are present in most games. But the lack of obligatory payments makes the atmosphere more relaxed with the ability to focus on the satisfaction first.
The gradual transition to online gambling. Some people are looking forward to starting playing in online casinos. However, the lack of knowledge about game mechanics and the atmosphere of a gambling platform scare them away. Social activities can become a painless transition for people who are eager to plunge into the world of bets.
Free self-realization. The fear to lose in an online casino and the fear to lose in a social game are completely different. It is the main reason for a lot of players to go for social entertainment. They enjoy the playing process, and their achievements keep them in a good mood. Eventually, they may decide to deposit extra money for boosting their performance even more.
No-money concern. There is no such notion in social gaming as withdrawing the winnings. When a player deposits into this type of entertainment, he understands that it is only to increase the enjoyment of the process. For example, in social slots, when a player has no spins left but the achieved score is high, he can purchase a few more to improve the result.
Smart Money monitors the latest changes in the social gaming sphere. The ability to adapt to players' demands and implement them into the entertainment content allows our developing department to bring originality to every operator's request. Order a turnkey social platform from Smart Money and bring different possibilities of self-fulfilment to your clients.
Smart Money wants you to pay attention to the most impressive analytical data concerning social gaming in the last few years:
The number of people who tried social entertainment has exceeded the number of registered users of online casinos with real money by almost 20 times in the last 5 years.
The number of players in social casinos has almost reached 5 million per month.
The global social casino market in the third quarter of 2018 increased by 0.4% compared to the previous quarter, or 11.7% compared to the previous year.
The revenue of mobile social casinos increased by 1.1%.
For the twelve months until September 30, 2018, the total market volume amounted to $5.06 billion, or + 17.7% per year.
After good results in the first half of the year, there was a tangible decline in the third quarter. Today, operators are hoping that the social casino market can reach or even surpass the calendar 2018 estimate of +15.8% annual growth.
Forecasts predict that within three years, social and mobile casinos with virtual currency will generate half of the income of the entire online casino sector, which is equal to $22 billion.
In 2019, the revenue was around $6 billion, while 5 years ago this amount was several times less, which indicates a rapid growth in the gaming audience of the social sector.
Also, the development of social gaming will provide games with cross-platform — the ability to play one game from different devices. This is expressed in its synchronicity: your friends can each participate in the process from their preferred devices (laptop, tablet or smartphone). Such synchronicity of the game made social gambling a popular pastime among a large number of players.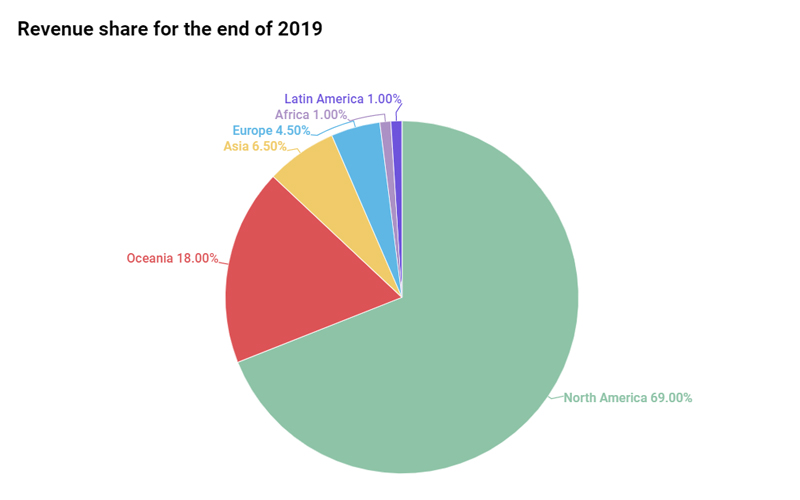 Surprisingly, the North American region holds the highest GGR as for the end of 2019. Oceania (including Australia) holds the second position. The quickest developing region is Latin America that seems to be progressing a lot since the last 5 years.
| | |
| --- | --- |
| Revenue share for the end of 2019, % | Region |
| 69 | North America |
| 18 | Oceania |
| 6.5 | Asia |
| 4.5 | Europe |
| 1 | Africa |
| 1 | Latin America |
Despite small numbers on Latin America and African gambling markets, these regions are also steadily developing in terms of social gaming.
Smart Money actively analyzes the preferences of the local audiences in all countries and adapts the organizational process to each particular project. Our experts put the cultural peculiarities of the region on top priority and build upon these considerations. Order a turnkey social casino from Smart Money to start a successful gambling business with professionals.
As an alternative to attracting new clients to online gambling websites, an operator might need to induce with social gaming first. It is a great way to introduce casino activities to people and provide them with a steady ground to future gambling entertainments. However, social games can as well be a lucrative business project.
The Smart Money firm gladly acquaints all entrepreneurs with the benefits of this sphere. We develop the finest solutions for social gaming activities on your website.
Apart from that, our specialists will get you an in-depth insight into the basics of social gaming:
The main essence of social gaming is not the aspiration to beat the house and earn money but rather to receive satisfaction from the processes and interact with other people.
Social casinos offer players free gaming possibilities, daily replenishment of accounts, and the possibility to purchase additional resources for boosting the score.
Lack of competitiveness, gradual transition to online, effortless self-realization, and no-money concern are the core distinctive features of why people opt for social gaming activities.
The development of the social gaming sphere is on the rise with North America holding a leading position in the total revenue share of the industry.
Smart Money is an experienced company that develops its capabilities in social gambling for the benefit of our clients. We offer an individual approach to each order and close consideration of an operator's preferences. Our cooperation with the top social content developers includes such companies as Amatic, Novomatic, Greentube, and others.
Order a turnkey social casino at Smart Money to become a respectable representative of the international market with your platform.
Contact our company's experts to inquire about order details:
Skype: sm.pay
Telegram: @spinwin
e-mail: manager@sm-pay.com
the feedback form.
Check the information used to contact us carefully. It is necessary for your safety.
Fraudsters can use contacts that look like ours to scam customers. Therefore, we ask you to enter only the addresses that are indicated on our official website.
Be careful! Our team is not responsible for the activities of persons using similar contact details.