New Year's Slot Machines: the Best Solutions From Smart Money
Christmas holidays are already around the corner, which means that it is time to replenish the casino assortment with profitable and bright slots. Smart Money has prepared a thoroughgoing review, which includes the most original New Year's slots. Each solution has multi-level gameplay, amazing 3D animation, and a fascinating storyline.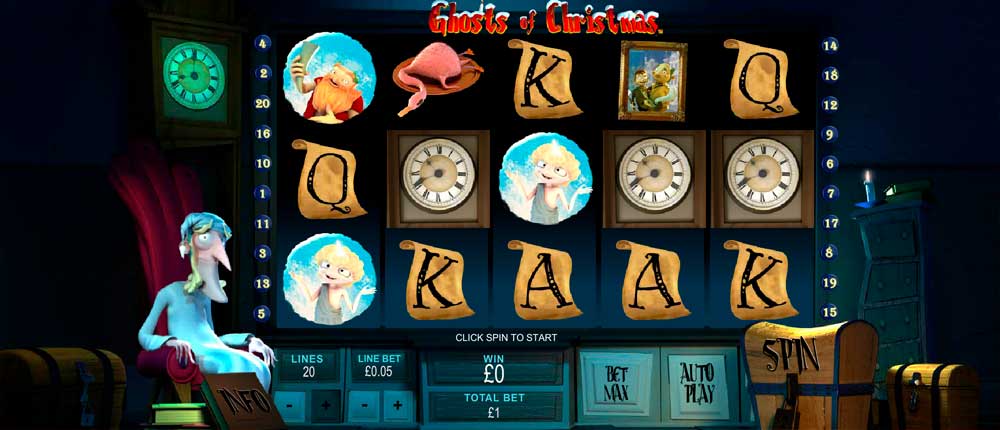 You can purchase thematic slots from Smart Money. We also develop online games according to the sketches provided by customers. High-quality workup and close attention to details allow us to produce original products that have no analogues in the gambling market.
One of the gambling market leaders, Microgaming, annually presents pre-holiday releases. All the New Year's slots presented by the developer are distinguished by a fascinating storyline, good graphics, and well-thought-out gameplay.
Happy Holidays takes us to a cosy evening on Christmas Eve. On five reels, users encounter all the attributes of this magic holiday: colourful cookies, a delicious turkey, a sock full of gifts, and children who like to play together.
Microgaming slots often have an increased number of fixed lines. In this solution, there are 1024 potentially winning combinations that can be formed during spins.
The name of this online slot machine is borrowed from the classic soundtrack in the style of New Year ― the Jingle Bells songs. The overall stylistics of the game also matches the selected composition. The action takes place against the background of an old wooden door decorated with the Christmas tree branches and beautiful bells.
New Year's machines from Novomatic have a number of additional features. In Jingle Jackpot, these are four progressive jackpots, which are ranked according to the card suit. The gameplay includes a scatter and an expanding wild, as well as a nice bonus in the form of free spins.
Ghosts of Christmas visit the famous Scrooge, and we can watch this interesting story. The solution is based on the famous literary work of Charles Dickens. Developers from Playtech have decided not to change the traditional storyline and just added profitable bonus options.
Playtech slots always mean an original approach to the visual content. This time, the idea of the design combined quality of the drawn elements with an atmosphere of self-irony. What is worth only a carelessly plucked poultry that lies on the tray or fat and self-congratulatory partner of Scrooge, shackled. By the way, this character here acts as a scatter.
The image of a wall clock is also rather interesting. It launches an additional round, during which the protagonist travels to his past, present, and future.
In our review of New Year's slots, we included products from Playtech. These games will become a gem of any online casino and attract new users to gambling establishments.
Santa Surprise has a hidden surprise in the bonus icon that opens the Christmas Gift Bonus section. Caring Santa left six gifts, and you can earn valuable prizes by opening them one by one.
The appearance of scatter and wild on five reels provide excellent opportunities. Card denominations, carefully decorated with the attributes of New Year, also bring worthy rewards.
Microgaming annually produces beautiful New Year's casino slots, which instantly cheer people up and bring them a lot of positive emotions. The first in the "Slots for the New Year" segment is the Ho Ho Ho online slot machine, which was released back in 2004. Fifteen years have passed, and the product still remains interesting for gamblers, attractive, and extremely in-demand.
Like many Microgaming slots, this online game motivates you to play and earn generous bonuses.
The interface consists of five reels and ten fixed lines. Symbols here are perfectly consistent with the stated topic. Gamblers will see a cart with gifts, a variety of sweets, and a luminous Christmas tree. It remains only to spin the reels and enjoy the magical picture.
This time, the developers decided to go the non-standard way and make Santa look like a real biker who is having fun with the Snow Maiden. Together, they ride a cool and fast motorcycle to manage to give out all the presents.
On their way, the main characters visit the burger joint, the alehouse, and also the workshop. All this is accompanied by the roar of a motorcycle along with traditional Christmas soundtracks.
Microgaming slots are often equipped with a standard panel, and Santa's Wild Ride was no exception. The five-reeled slot machine can form as many as 243 successful combinations, which is a very high indicator.
Red Tiger Gaming releases classic New Year's machines. The idea of ​​this New Year's casino game was taken from Bing Crosby's song of the same name, which many people remember from the 90s. The design also resembles the holidays of that time: traditional green and red shades with highlights of gold are used. Voiced sounds successfully complement the overall concept of the solution.
Slots of this developer have always surprised gamblers with a variety of bonuses, and in the described game, this trend is also clearly visible. Jingle Bells offers several additional features. Worthy prizes are brought by jokers, large multipliers, and automatic replacement of cells. The grand prize can be won in the Santa's Big Bonus round, where the payout is eight hundred basic bets per spin.
Cute elves can rap with ease! Such a non-standard idea came to Microgaming developers, and they brought it to life. Gift Rap is an amazing and generous online game, however, like all the slots of this manufacturer.
A dynamic rap party will put everyone in a good mood, all users need to do is to spin the reels. Payouts of the slot will also bring gamblers many positive emotions. The gameplay provides for a wild icon and a scatter, and during free spins, you can get about 30% of the prizes.
The naughty penguins from Holly Jolly Penguins complete our today's review of slots for the New Year. Four funny penguins appear on five reels, and constantly end up in ridiculous positions. You will have a lot of fun watching the adventures of the main characters of this New Year's casino slot, especially if all this is accompanied by large payouts.
A high RTP percentage is provided by eighty free spins, which, in turn, are provided by the mechanics of the game. Good income will also be brought by two wilds that can expand to full screen and instantly replace the missing cells.
New Year's machines from the world's leading providers can be bought at Smart Money. We are a distributor of well-known developers and offer only the best holiday-themed slots. Such solutions will decorate any New Year's casino, increase Internet traffic, and bring a decent profit.
Smart Money also deals with the development of its own gambling solutions. For example, from us, it is possible to order the creation of video slots according to the individual sketches of customers. Our clients will receive a product that has no analogues, with well-thought-out functionality and colourful design. The influx of visitors to your online casino and the increase of income are guaranteed.